Nonprofit accounting software
Sparkrock - Pricing, Features, and More
Know what makes Sparkrock such a good nonprofit accounting software, its pricing and features, and what alternatives and add-ons are available.
---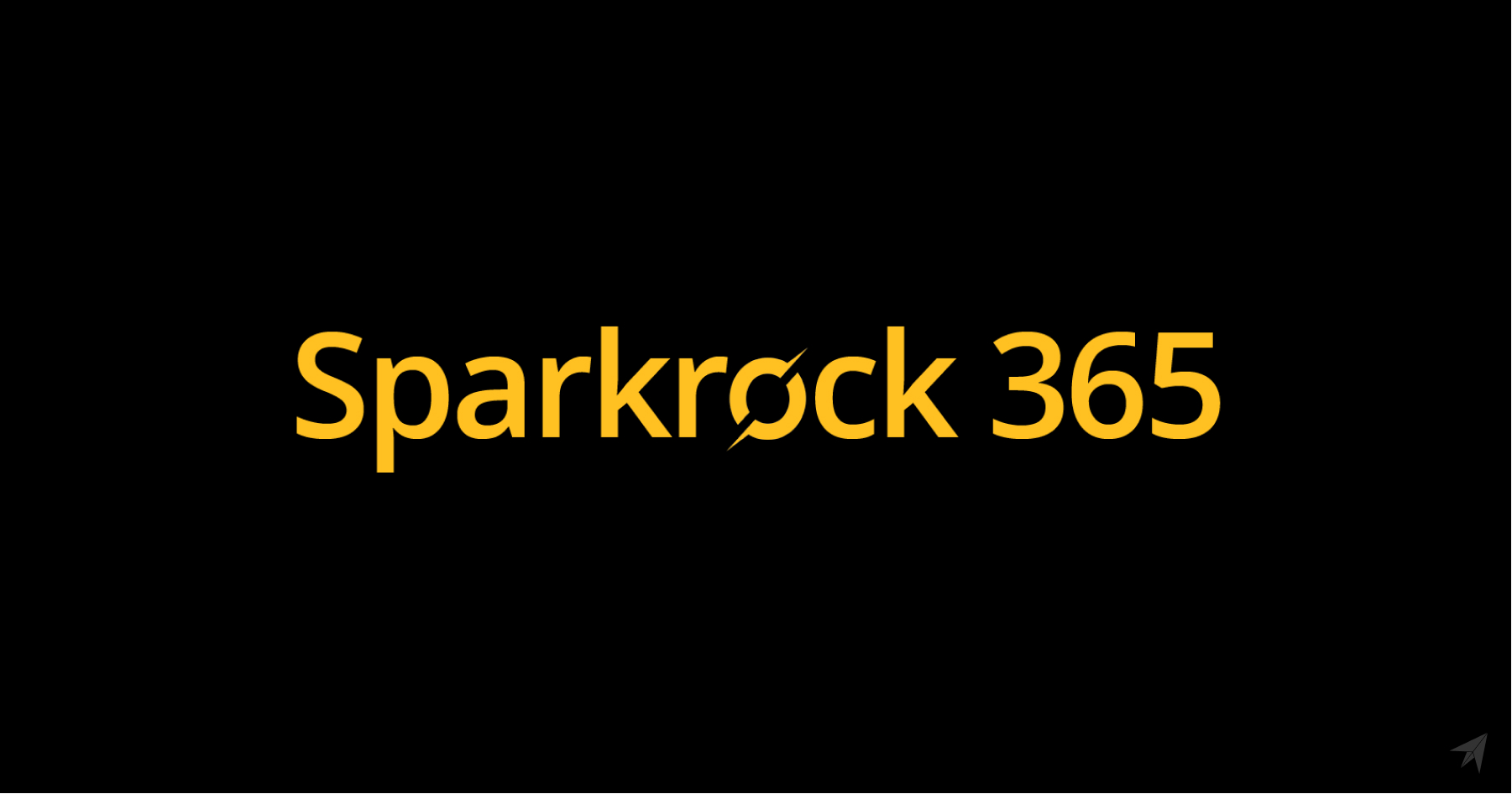 Sparkrock 365 is a Microsoft application designed to enable K-12 organizations, health & human service providers, and nonprofit agencies to have predictive control of their funding, operations, and oversight. By synchronizing these features, Sparkrock 365 helps nonprofit groups increase their organization's efficiency, productivity, and cost-effectiveness.
Sparkrock understands that each client is unique and requires personalized financial management systems that align with their organization's goals. As a result, Sparkrock 365 offers functionality that works for employees in accounts payable, cash management, employing onboarding, and so much more.
If you run a grant or awards program, you might be wondering if Sparkrock 365 is right for you. In this post, we'll explore the history of Sparkrock 365, its features and limitations, and a few alternatives you might want to consider.
The History of Sparkrock
Sparkrock 365 was developed by James Faw and Nicola Dickinson. They sought to "spark" change in the world. After having worked with many for-profit organizations, they took their knowledge and applied it to nonprofit organizations.
They created Sparkrock 365, a SaaS-based ERP business application built on Microsoft Dynamics 365 Business Central, the world's most trusted ERP platform. Sparkrock 365 was purpose-built for human service, K-12, and nonprofit organizations, eliminating the need for heavy customization. With Sparkrock 365, Faw and Dickinson removed the complexity from traditional on-premise ERP implementations and put their core focus on making every customer successful.
Sparkrock 365 was designed to provide nonprofits with tools that offer deeper insights into their finances, funding, and operations, enabling them to make more informed business decisions. Sparkrock 365 does the heavy lifting so nonprofits can focus on what they do best, impacting the communities they serve. Sparkrock's partnership with Microsoft allows them to deliver the security and stability you expect from their cloud-based products.
Today, Sparkrock 365 boasts hundreds of thousands of users across North America and is known for having a team that passionately serves the nonprofit sector. Sparkrock takes great pride in supporting customers who are changing the world.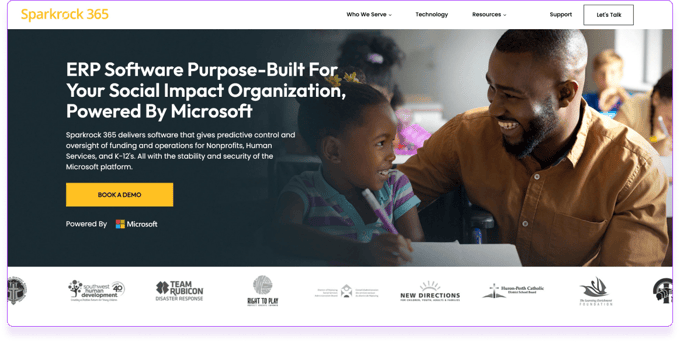 In addition to offering valuable, real-time insights, Sparkrock 365 provides nonprofits with practical Artificial Intelligence (AI) and machine learning features that help ensure the ability to optimize its finances and its people.
Sparkrock's enterprise resource planning (ERP) software aims to help nonprofit organizations create meaningful and impactful operations so managers and frontline workers can make informed decisions quickly and efficiently. The Sparkrock team also works with nonprofit organizations to create a customized ERP software solution that best suits their individual needs.
Sparkrock Pricing
No public pricing is available for Sparkrock 365 software on its website or anywhere else online. The only information we were able to clean about Sparkrock 365 pricing is that it's customized based on your needs, so pricing varies. For an accurate quote, you would need to contact Sparkrock directly through its website.
We can tell you however, that according to TEC, you will need to factor the cost of Microsoft Dynamics 365 into your final subscription fee which begins at $1,500 per tenant per month according to Microsoft.com.
Sparkrock 365 Top Features
Accounts Payable
Sparkrock 365 is a comprehensive software solution for nonprofits that offers several great features and tools that can help them to streamline operations and reach their goals. For example, users praise the accounting module, which includes invoicing, accounts payable, accounts receivable, and financial reporting features options. Its accounts payable features help reduce errors, duplication, and delays, with an integrated system that seamlessly connects all components of the organization's finances.
HR Management and Payroll Administration
Sparkrock 365 helps simplify managing a nonprofit's employee records, performance appraisals, benefits, training, collective agreements, and more. Best of all, it simplifies payroll for social impact organizations with complex workforce dynamics and compliance requirements.
Flexibility, Scalability, and Compatibility with Microsoft Products
Sparkrock 365 allows users to customize the product to use as much or as little as they want and expand the product as needed. Because Sparkrock 365 is a Microsoft application, information from Sparkrock 365 can be easily transferred to other Microsoft products. The recent integration of a "search" function into the software is a favorite among users.
Sparkrock 365 Limitations
Complicated for Some Users
Users have complained that the learning curve for many of their staff members was much higher than expected and that getting everyone set up and on board with interfaces that worked for their specific roles took a long time. In fact, it is not uncommon for reviewers to note that new users struggle to use the program at first because it is not as intuitive as it should be. Although Sparkrock 365 offers training videos in the customer support center, users say they are not thorough enough.
Not Recommended for Smaller Nonprofits
While most feedback about Sparkrock 365's ERP software is positive, most users agree that it is better suited for larger nonprofits than for small or mid-sized nonprofit organizations.
Sparkrock Alternatives
As noted above, Sparkrock 365 is best suited for larger nonprofits. So, if you represent a smaller-sized nonprofit organization, you may want to look elsewhere for a financial management solution. Thankfully, there are plenty of Sparkrock 365 alternatives on the market.

Sage Intacct
Sage Intacct is a Sparkrock 365 alternative that allows nonprofit groups to automate various accounting and financial management processes, no matter how basic or complex. With Sage Intacct, nonprofits can improve productivity and compliance, which every nonprofit should strive for. Sage Intacct offers a comprehensive, cloud-based solution tailored to accommodate the needs of your nonprofit organization, regardless of its size.


---


Blackbaud Financial Edge NXT
Blackbaud Financial Edge NXT is another cloud fund financial management solution that has proven to be a worthy alternative to Sparkrock 365. Blackbaud Financial Edge NXT is a tool designed exclusively to meet the unique compliance needs of nonprofit organizations. From capital/expense management and grant accounting to financial planning and analysis, Blackbaud Financial Edge NXT is a leading choice for nonprofit accounting.


---


Fund EZ
Fund EZ is a Sparkrock 365 alternative explicitly designed for small nonprofits who don't have the funds or the time that large organizations devote to purchasing and using nonprofit accounting software. Fund EZ offers every tool a nonprofit organization could ever need in a single, convenient software solution available at a reasonable price. With its user-friendly interface and standardized screens, Fund EZ removes the complexity and stress commonly associated with nonprofit accounting.
Introducing SendGrant: The Best Add-on for Handling Grant Payments
If your nonprofit organization is considering Sparkrock 365 or another financial management and accounting software solution, check out SendGrant first. SendGrant is an exciting new nonprofit accounting solution designed specifically for nonprofits that distribute grants as part of their mission.
SendGrant is a software solution from the developers of the popular SmarterSelect scholarship and grant management software. SendGrant allows nonprofit groups to efficiently distribute payments from one centralized system dedicated exclusively to the grant and scholarship awards process.
With SendGrant, nonprofits can award money electronically, get receipt confirmations, and verify the funds are used appropriately based on program criteria. As a result, your nonprofit will save time, effort, and money by eliminating the need to mail checks or get lost in endless back-and-forth emails.
SendGrant is the solution your nonprofit organization has been looking for when it comes to scholarship and grant management and distribution. Best of all, SendGrant is an easy-to-use solution with an intuitive setup that is never confusing.
Find out how easy it is to start today by joining the SendGrant Pre-Launch!
---
About the author
Founder and President of SmarterSelect. Responsible for company, product, and marketing strategies and execution.
Website
Read more posts by this author.