Distribute scholarship and grant money safely, easily and securely
Send scholarship and grant money electronically, get receipt confirmations, and verify the funds are used based on your program criteria - all without mailing checks or email back-and-forths.
Estimated release date Q3 2023
Pricing Announced in Q3 2023.
Safe Electronic Funds Transfer
Transactions are executed directly between your organization and recipients by our trusted financial partner.
Client Portal & Workflows
One single hub of information provides workflows for program and accounting managers.
Transaction Log
Full audit trail for easy reporting and dispute resolution.
Funds Guidelines
Establish and distribute guidelines and requirements to ensure your funds are used as intended.
Fund Status Notifications
Automatically update all involved parties every step of the way.
SendGrant Network
No need to maintain and secure bank account and contact information for universities and individuals.
THE PROBLEM
Manual legacy processes cause headaches and errors
Recipients report not getting their money, and you're chasing down wire transfers without confirmation the funds went through.
Mis-spent funds not according to your guidelines

No visibility or resolution on unenrollment refunding

Mailing checks is slow and difficult to track
HOW IT WORKS
SendGrant Step by Step
STEP 1
Program Manager creates a Send Request in SendGrant
One click and the process is initiated.
University bank accounts pre-loaded in the SendGrant Network
STEP 2
Send Request gets forwarded to the foundation's Accounting & Finance Staff for approval
Speed up the funding approvals and remove massive process bottlenecks.
Accounting & Finance staff can easily make comments & revisions.
STEP 3
Once approved, your funds and guidelines are sent to the recipient's bank account
Client portal is a single source of truth for all things funding.
STEP 4
Notifications get automatically sent to all parties
Update every party every step of the way and reveal problems before they stall the process.
STEP 5
Recipient reports outcomes to your foundation
Know your funds are being used according to your guidelines and always have a fully-auditable Transaction Log for easy reporting and dispute resolution.
Setup is always intuitive, never confusing
Simply connect your bank account, authenticate your account, and fill in your profile. As straightforward as signing up for CashApp.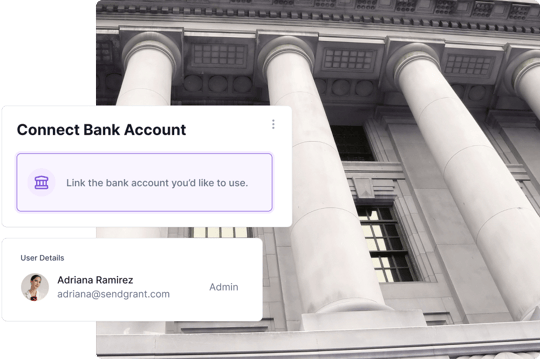 Sign up now for SendGrant updates!
Be the first to know when SendGrant launches.
Estimated release date Q3 2023